DOES KEEPING A HOUSE CLEAN AROUND KIDS SEEM POINTLESS?
YOU CAN HAVE A CLEAN HOME, AND CHILDREN, AND A LIFE TOO!
Parenting Groundhog Day. We've all been there. We've all lived it. Maybe you are living it right now?
You get up out of bed and trip over mess scattered throughout the hallway. You try to tidy up last night's dishes, but more importantly, you must feed and ready the kids for school. But you're out of milk, damn it. Someone can't find a sock, a reed for their clarinet or their favourite hair band. You can't find your morning mojo, let alone your sanity. Before you know it, you're late out the door leaving behind a trail of unfinished housekeeping tasks. As you fumble with your keys and breakfast toast in the driveway, you tell yourself it'll be OK. You'll get to the dishes. You'll get to the growing mountains of clutter on the dining table and stacked up in corners of the house. You'll even get to the dusting – eventually. But secretly, it gets you down. It weighs on your mind, frustrates and aggravates you, and you take it out on your loved ones.
As life gets busy and there's less time for you, there's also less time for organisation. But with every Groundhog Day you clock, the situation snowballs until you are at your wit's end with juggling life. There's so much to do it's stressful even contemplating where to start. If only there was a magical organisational fairy to flutter in, wave her magic wand and take your disarray away… Well, here's the next best thing!
TAKE ALL THOSE GOOD INTENTIONS AND FUNNEL THEM INTO ACTIONS.
CARVE OUT WHATEVER FREE TIME YOU CAN, EVEN IF IT'S JUST MINUTES EVERY
OTHER DAY AND COMMIT TO MAKING ONE OF THE BIGGEST CHANGES
TO YOUR FAMILY'S HOME LIFE THAT YOU CAN!
---
INTRODUCING, THE ORGANISED HOUSEWIFE'S
20 DAYS TO ORGANISE AND CLEAN YOUR HOME CHALLENGE
Hi – I'm Kat and I'm The Organised Housewife. As a mother of three children (twins aged 13 and an 11 year old), I began blogging years ago as a way to share my tips and tricks to keeping a happy and ordered home. With three kids under two at one stage of my life, I simply had to get a handle on home organisation and very quickly – for mine and my husband's sanity.
I'll be the first to admit that I love a chart, a checklist or a planner to help bring even more organisation into the home. I also know that every home and every family is unique and there's not a one-size-fits-all approach to life.
I truly believe, however, everyone can adapt my ideas to suit their individual circumstances.
My 20 Days to Organise and Clean Your Home challenge combines these tried, tested and proven housekeeping tips with the physical tools to achieve organisational bliss – whatever your motivation and whatever your end goal.
WHAT YOU CAN EXPECT
Each day, participants will receive tasks under four categories:
cleaning

organising

decluttering

habit-forming
There's no requirement for participants to complete the challenge in 20 days. If you do, that's awesome. If you don't, that's great too. The length of time it takes you to finish the challenge is irrelevant. The fact that you finished it is the most important thing. If you work you can change the challenge to complete one day of tasks over 2-3 days or catch up over the weekend.  Do not feel you have to complete it within 20 days.
Through the challenge you'll expect to:
Create simple daily routines for the family

Inspire the kids to keep on top of tidying their toys which will, in turn, give you the desire to keep the rest of the house in order

Gain guidance on organising and decluttering one area a day to reduce the overwhelm. Big scary tasks are always better tackled by breaking them down into smaller manageable chunks. Taking your time makes the process easier and also gives you the opportunity to really consider if you need all the excess you have collected over the years.

Follow daily routines to help start every day in better spirits. Why is this important? Your family notices your changed attitude and the authentic warmth in your smile – and they also appreciate a tidy kitchen bench!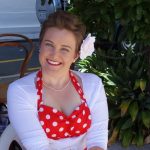 I have done this challenge three times in three different houses in two different countries.  As someone who need's their butt kicked every now and then this challenge is excellent.  It's like a gym membership, but rather than getting your body fit — it's getting your house clean!  I mean I've never known where to start when my house is a complete mess –  The challenge actually forces me to focus and get things done in a logical order.  It also tackles little jobs that are usually forgotten — for instance who knew how much grime accumulated between the counter top and cupboard doors ~ Madonna Stephens, NZ. 
This is a 20-day challenge that pulls you out of your downward spiral of mess and stress and gives you a clear and simple step-by-step process that will help you achieve a clean house in as little as 20 days and create a lasting system that's realistic and effective.
Finally, you'll have the system and tools to have the home you've always dreamed of and to put you back in control. And I will help show you how to get your family on board too – and enjoy it!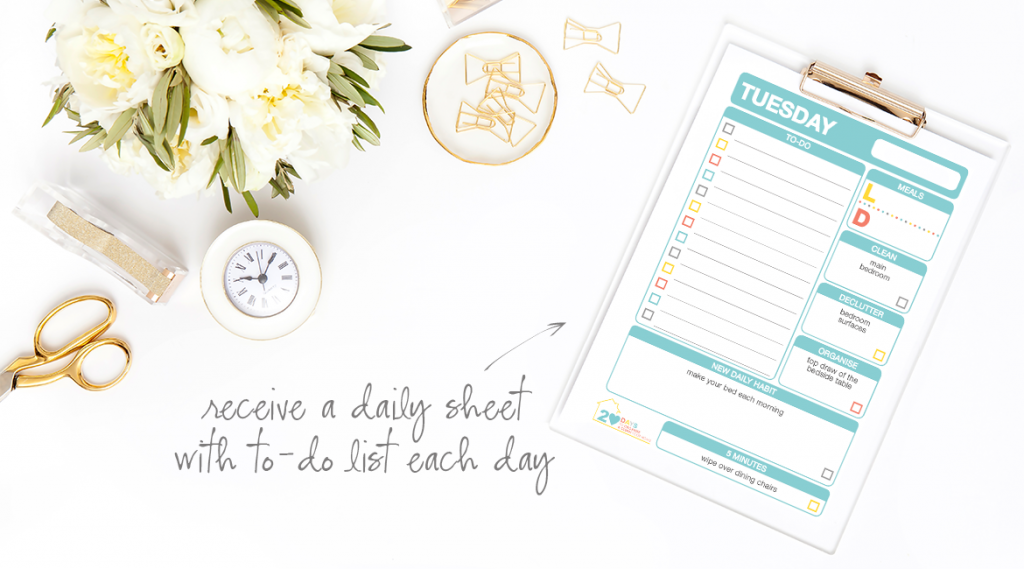 HOW DOES IT WORK?
There are two level options, premium and deluxe.
Each levels include:
Pre-challenge tasks these tasks will 

set you up for the best chance at success. You will have instant access to these tasks.

One module opened every week for four weeks with daily tasks to undertake each weekday. You can do these tasks at your own pace, choosing the days to tackle the tasks that best suit you and your lifestyle. Expect to tackle a different area of the home each week. Week one will be available 7 days after you sign up, to allow you enough time to complete your pre-challenge tasks.
Lifetime access to the content inside a private membership site to allow you to go through it over and over, whenever you wish.
Checklists, printables and to-do lists (digital and paper) to keep you organised and on track. They will also make the process easily repeatable.
Access to a private Facebook group where you will be given personal access to me every step of your journey, to answer any questions you have and moderators to motivate you. You'll also have the community on tap to share household experiences from which you can adapt ideas to suit your family.
Deluxe challengers will additionally receive:
A deluxe printables bundle (which usually retails for $120 alone) at half price. This includes the: 2017 gratitude notes, laundry schedule,say no to others print, remove shoes, recipe organiser, A4 dinner chart, weekly meal planner, 2017 daily planner, 2017 bill organiser, household budget, wardrobe clothes labels, cleaning checklist, dream big print, dishwasher label, birthday calendar, freezer inventory, to achieve list, projects to complete

. There are no excuses not to be organised!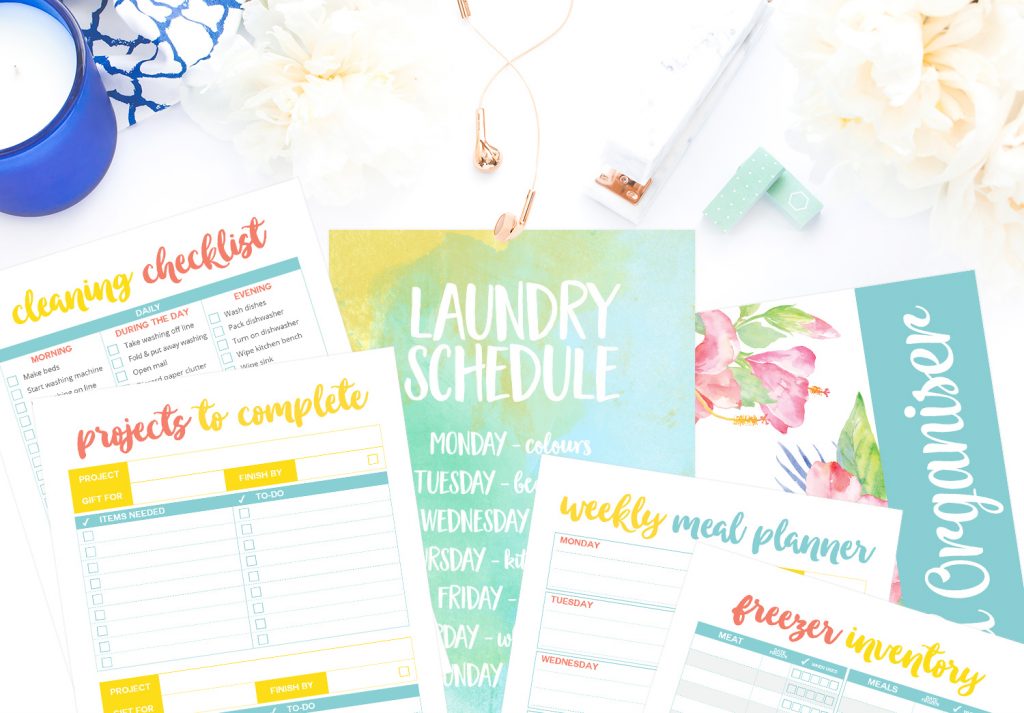 The feedback I get from past participants is heart warming. I have some members who do the challenge for certain specific end goals (ie, they are moving house, or have extended family coming to stay for a special event etc etc) and others who are generally in need of support, guidance and reassurance from a like-minded community.
WHEN DOES IT START?
PRE-TASKS – these are 5 pre-challenge tasks, which need to be completed before you start the challenge, this will set you up for success!
WEEK 1 – Available 7 days after you sign up.
WEEK 2 – 7 days after
WEEK 3 – 7 days after
WEEK 4 – 7 days after
Remember you have lifetime access to this challenge if you can't follow this timeline that OK, you can view and complete each days tasks when it suits.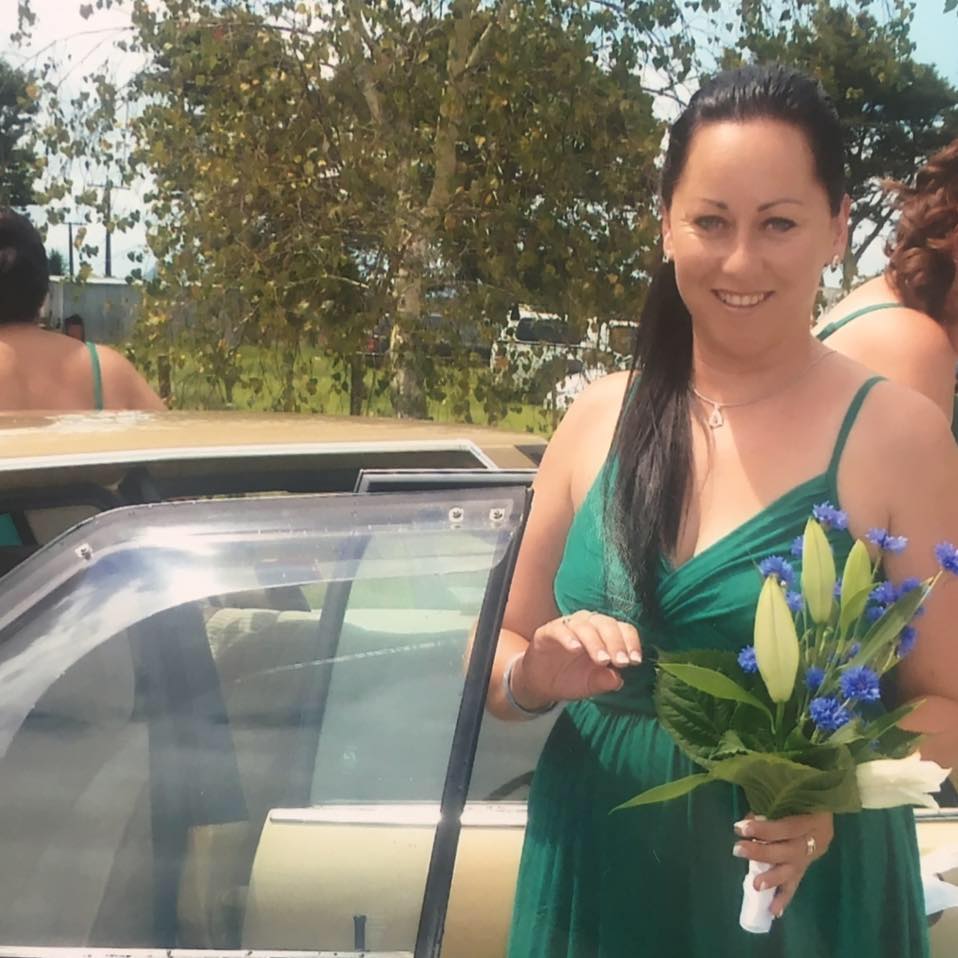 Joining the '20 Day Challenge' was the BEST DECISION I made for my family and our home. I was feeling overwhelmed by all the clutter in our home and routines were lost in translation. My biggest problem areas were the Master Bedroom (aka dumping ground) and the mountain of sentimental items I had hidden away in the wardrobes. During the challenge, I got a lot of support from the 20 Day Challenge Facebook group. They inspired and encouraged me every step of the way. In just 20 days, my home was clean, de-cluttered and organised. It looked great and felt amazing. It inspired me to cull a lot of my sentimental items and everything had a place in my home. We have since moved into our new home, and I am using the same system/routines to ensure our home stays clean, clutter-free and organised, all thanks to The Organised Housewife and the 20 Day Challenge team. If you are thinking of joining us – DO IT! I promise you, you won't regret it! ~ Charlene Morunga, NZ
IF YOU ARE STRUGGLING WITH HOUSEKEEPING AND ORGANISATION, KNOW THAT YOU ARE NOT ALONE AND
KNOW THAT IT DOESN'T HAVE TO BE LIKE THIS

This is hands down the best thing I have ever done for myself and for my family. I loved the feeling of accomplishment as each task was completed. I was blown away by how much I could do, and how much could change in just 20 days. The program is easy to follow, and the support and guidance from Kat and the facebook group is amazing. Try it, you won't be disappointed! Sarah, VIC 
FREQUENTLY ASKED QUESTIONS
I've never been an organised person. Will this help me?
Absolutely, it will give you a range of ideas that I have used in my own home, that you will be able to adapt to your family and household.
How much time will I need to have available to do this each week?
There are tasks like decluttering your kitchen bench through to cleaning a full room on some days.  If you can't complete all the tasks in one day, that is perfectly fine. You can make this a 20, 30, 40 day or more challenge whatever suits your lifestyle best.   You have lifetime access to all the content so you can refer back to it whenever you have a spare moment to tackle that space.
How much will this cost me in products etc beyond the price of the program?
I give you many printables, checklists, to do lists and more within the program. I do recommend other charts (like the kids routine charts, weekly meal planner etc), which can be purchased in the Deluxe package with a discount of over 50% or individually through my shop.  I didn't include them in the basic or premium packages to keep the price point of the program reasonably priced.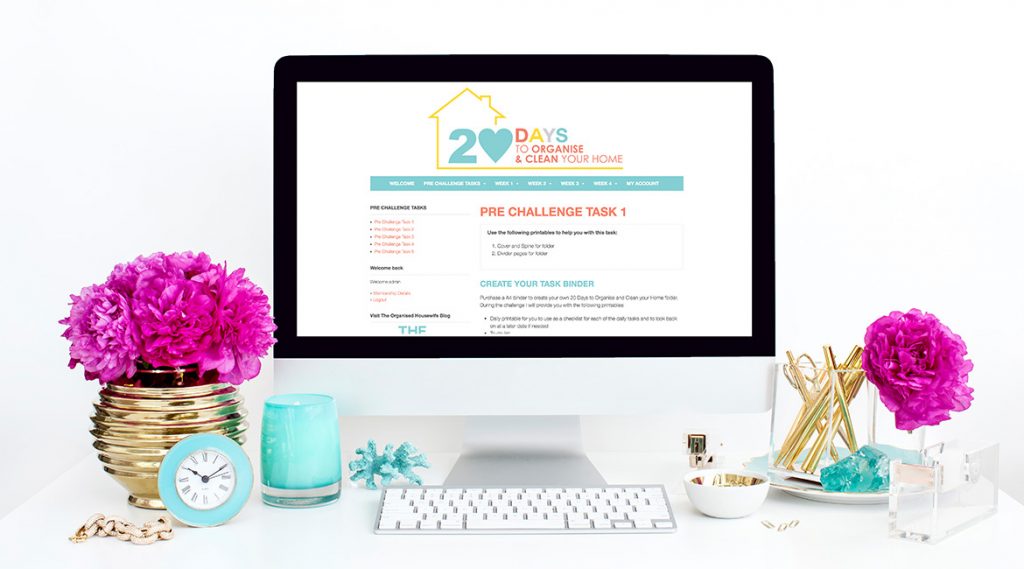 Why is this separate to the blog?
Publishing the challenge as an eCourse has so many benefits. The big one being that you will have easy access to challenge content that will not be mixed with other content from The Organised Housewife blog. However, I will refer to articles that will help you on the blog.
Having it's own separate site will make the tasks more manageable for you, less overwhelming, give you a daily step by step guide and the bonus of lifetime access so you can participate for FREE when run in the future AND you will have my support and help every step of the way answering all your questions.
How do I pay?
You can purchase your membership through Paypal, this is the most secure and convenient way to pay online.  You don't need to have a Paypal account to make your purchase. On the Paypal page below the login there is an option to choose to pay with credit card.
Can I upgrade my package once I have signed up?
Yes I am happy to upgrade your package within the first 2 weeks of your purchase, please email me for details on how to upgrade.
When does registration close?
This eCourse will run again as a group in spring 2017. Once this Autumn 2017 group session has finished I will open registrations for purchase throughout the year.
Do I need a particular computer program to access the challenge?
You will need a computer, internet access, printer and the free Adobe Reader program to download and print all your printables.
I don't have PayPal, can I pay by credit card?
Yes you don't need a PayPal account to make payment.  PayPal do accept credit card payments, when on the 'choose a way to pay' page choose 'pay with a credit or debit card'.
Do you have a refund policy?
I have provided you with tips in detail to create a calm, organised and clean home.  Due to the nature of this product, purchases are not refundable. Your results are 100% up to you. It is possible to make the changes in your home, but you need to commit to make this happen.
I want to be at home now instead of feeling guilty or ashamed that I have let my home get in that state.  Being at home depressed me because of the enormous cleaning and decluttering and organising tasks that stared me in the face when I was there.  So, I used to go out and buy things which I thought would make my home and life lovely which would keep me out of the house.  I would come home and dump my purchases which would compound my problem even more!  With the 20 day challenge, I had to stay home, complete my tasks and then each day got closer to having that great relaxing space I have only ever dreamt of.  I now don't have any desire to go anywhere else but be in my home! This has actually saved me impulse spending and has ensured my family has pre-prepared healthy meals, I've got to do tasks which I would never have done otherwise and got onto strting my new hobbies.  Thank you so much for changing that mindset in me. I can honestly say it has changed my life without exaggeration ~ Chloe, QLD 
Once you have participated in the Challenge, you will have tidied and cleaned most of your home, learnt strategies and routines to help stay in control and keep your home clean and organised and freed yourself up to do the things you most want in life.

REGISTER YOUR INTEREST
Registration is currently closed for the 20 Day's to Organise and Clean Your Home eCourse.
The next challenge will start on Monday 9th October.
Please submit your email address to register your interest in joining the next round, I will send you details soon.
I LOOK FORWARD TO HELPING YOU GAIN BACK CONTROL OF YOUR HOME SO YOU CAN SIT & RELAX WITH YOUR FAMILY ~ KAT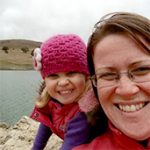 I wasn't sure about signing up because I felt like I couldn't possibly do everything in 20 days. I didn't complete everything in the 20 days, but I learned so much, and made so much progress. I also learned that just making a start and doing something is good enough, rather than aiming for perfect. I have some simple routines learned from Kat to keep on top of the basics in the kitchen. I loved learning about decluttering and letting go of things to make more space. I have adopted the laundry schedule and it really helps me to keep on top of things. One of the best parts is lifetime access, so not only accessing all of the resources, but also being included on further offerings of each 20 day challenge. I'm very pleased to have made the investment ~ Fiona Francis, NSW
The challenge for me has changed my home and my lifestyle. I've met some beautiful women, I think we're the only group that doesn't fight or have conflict. All the woman are so supportive of each other and we've grown together into cleaning queens 😀 Love this challenge! ~ Melanie