DOES KEEPING A HOUSE CLEAN AROUND KIDS SEEM POINTLESS?
YOU CAN HAVE A CLEAN HOME, AND CHILDREN, AND A LIFE TOO!
Parenting Groundhog Day. We've all been there. We've all lived it. Maybe you are living it right now?
You get up out of bed and trip over mess scattered throughout the hallway. You try to tidy up last night's dishes, but more importantly you must feed and ready the kids for school. But you're out of milk, damn it. Someone can't find a sock, a reed for their clarinet or their favourite hair band. You can't find your morning mojo, let alone your sanity. Before you know it, you're late out the door leaving behind a trail of unfinished housekeeping tasks. As you fumble with your keys and breakfast toast in the driveway, you tell yourself it'll be OK. You'll get to the dishes. You'll get to the growing mountains of clutter on the dining table and stacked up in corners of the house. You'll even get to the dusting – eventually. But secretly, it gets you down. It weighs on your mind, frustrates and aggravates you, and you take it out on your loved ones.
As life gets busy and there's less time for you, there's also less time for organisation. But with every Parenting Groundhog Day you clock, the situation snowballs until you are at your wit's end with juggling life. There's so much to do it's stressful even contemplating where to start. If only there was a magical organisational fairy to flutter in, wave her magic wand and take your disarray away… Well, here's the next best thing!
TAKE ALL THOSE GOOD INTENTIONS AND FUNNEL THEM INTO ACTIONS.
CARVE OUT WHATEVER FREE TIME YOU CAN, EVEN IF IT'S JUST MINUTES EVERY
OTHER DAY AND COMMIT TO MAKING ONE OF THE BIGGEST CHANGES
TO YOUR FAMILY'S HOME LIFE THAT YOU CAN!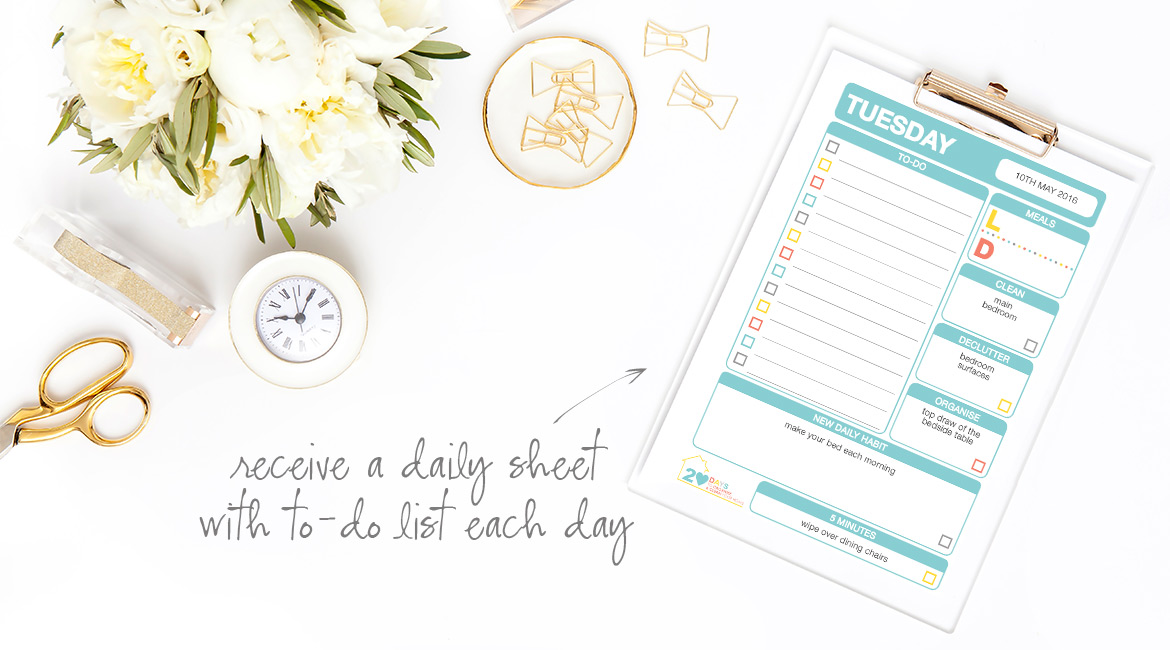 ---
THE ORGANISED HOUSEWIFE'S
20 DAYS TO ORGANISE AND CLEAN YOUR HOME CHALLENGE
Hi – I'm Kat and I'm The Organised Housewife. As a mother of three children (twins aged 13 and an 11 year old), I began blogging years ago as a way to share my tips and tricks to keeping a happy and ordered home. With three kids under two at one stage of my life, I simply had to get a handle on home organisation and very quickly – for mine and my husband's sanity.
I'll be the first to admit that I love a chart, a checklist or a planner to help bring even more organisation (read: calm) into the home. I also know that every home and every family is unique and there's not a one-size-fits-all approach to life.
I truly believe, however, everyone can adapt my ideas to suit their individual circumstances.
My 20 Days to Organise and Clean Your Home challenge combines these tried, tested and proven housekeeping tips with the physical tools to achieve organisational bliss – whatever your motivation and whatever your end goal.
---
Registration for the 20 Days to Organise and Clean your home is currently closed
However, I will be opening it back up again late 2016. If you are interested to get your home and life in order then please enter your details into the form below and I will send you further information closer to time.
Follow The Organised Housewife