Does keeping a clean house with kids around seem pointless?
You
can

have a clean home –

and

children too

Do you get to the end of the day and feel completely exhausted? There's a stack of dishes in the sink and clothes piling inside the laundry door, but you just don't have the energy to tidy the house right now. You need sleep. Instead, you go to bed with a messy kitchen and dirty laundry to wake to the next day – along with a hefty dose of stress.

You're not alone. As busy mums, it's easy to find yourself in a situation where:
The kids are creating such a mess you feel it's pointless to even keep the house tidy, so you don't bother
You have so much stuff you know you don't need, but the thought of having to go through it all is making you feel stressed and you put it off
The mess seems so overwhelming, you don't know where to start.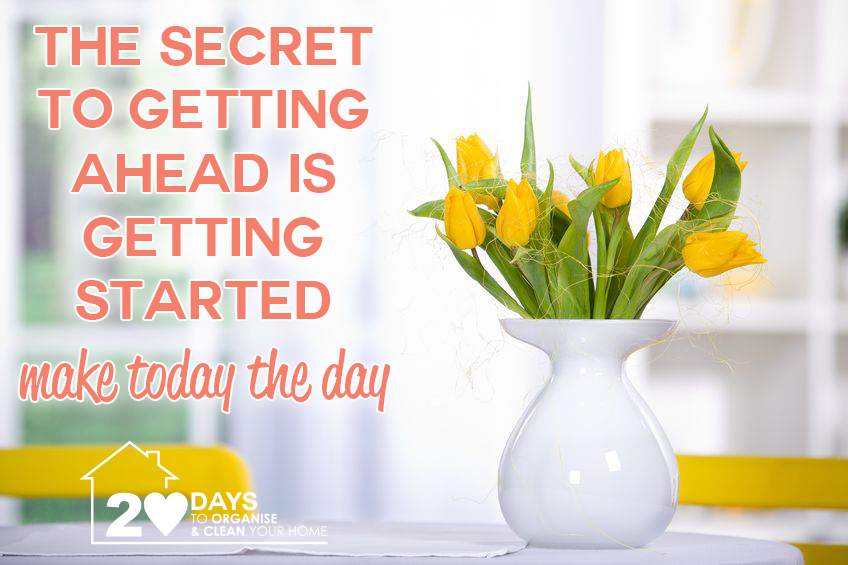 YOU'RE READY TO TAKE ALL YOUR BEST INTENTIONS AND PUT THEM INTO ACTION TO CHANGE YOUR HOME AND LIFE.
Get the right tools and techniques to start and then keep on top of creating your own organised home. You're ready to:
Create simple daily routines for the kids to tidy up their toys and give you the desire to keep the rest of the house in order
Gain guidance on organising and decluttering one area a day to reduce the overwhelm.  Taking your time helps make the process easier and gives you the opportunity to really consider if you need all the excess you have collected over the years.
Follow daily routines to help start every day in better spirits. Your family notices the warmth in your smile and appreciates a tidy kitchen bench when making their lunches the next morning.
All that's standing in the way of you getting the home and life you've longed for is knowing where to start and what the best solutions for your household is.

Finally, you'll be able to relax and enjoy stress-free time at the end of each day.
It is possible to have a calm life and home. I felt lost after my mum passed away. Understandably, I was an emotional mess and this, in turn, affected my home.  I lost all control of my routines and systems and over a period of time cupboards became disorganised, laundry was piling up and bench tops were cluttered. The house was a mess.  I soon realised the untidiness of my home was not helping me to wake up in better spirits and move forward.  I needed to gain back control of my home to help my own mindset.   That was one of the motivators for starting 20 Days to Organise and Clean Your Home two years ago. I've created it as a more systemised program that also offers you the chance for support and accountability by doing the challenge with other women just like you. I'll show you the steps I took that's resulted in less stress – with three kids in tow.
This is a 20 day challenge that pulls you out of your downward spiral of mess and stress and gives you a clear and simple step by step process that will help your achieve a clean house in 20 days and create a lasting system that's realistic and effective.
Finally, you'll have the  system and tools to have the home you've always dreamed of and put you back in control. And we help show you how to get your family on board – and enjoy it.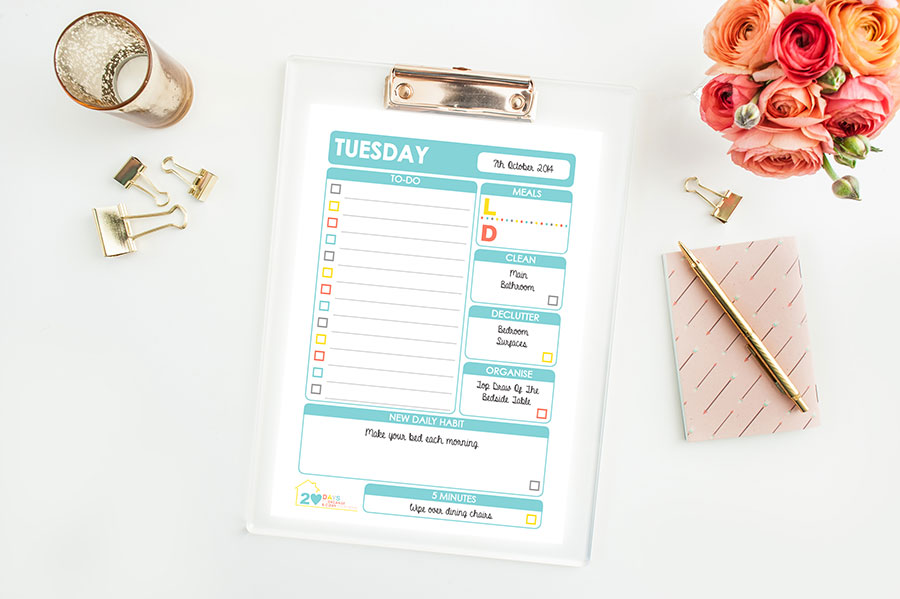 What can you expect:
There are three levels you can join the Challenge under – Basic, Premium and Deluxe. All levels include:
Pre-challenge tasks before we launch on October 5 that will set you up for the best chance at success.
One module opened every week for four weeks with daily tasks to undertake each weekday. You can do this at your own pace, choosing the days to tackle the tasks that best suit you and your lifestyle. Expect to tackle a different area of the home each week.
Lifetime access to the content inside a private membership site to allow you to go through it whenever you wish.
Basic checklists, printables and to do lists to keep you organised and on track.  That will make the process easily repeatable.
Premium challengers will also receive:
Access to a private 6-week Facebook group where you will be given access to me every step of your journey to answer any questions you have. You'll also have the community who will share their household experiences from which you can adapt ideas to suit your family.
Deluxe challengers will receive:
Deluxe Printables Bundle, which retails for $120, at half price. This includes the • Kids Morning and Evening Routine Charts, • Laundry Schedule Print • Say No To Others Print • Please Remove Your Shoes Sig, • Recipe Organiser • A4 What's For Dinner Chart • Kids Teeth Brushing Chart • Kids Tasks To Do List • 2015 Daily Planner • 2016 Daily Planner (available end of October 2015) • Bill Organiser • Household Budget • Wardrobe Clothes Labels and • Cleaning Checklist. There are no excuses not to be organised!
FREE access to the private 6-week Facebook group for support and accountability

FREQUENTLY ASKED QUESTIONS
I've never been an organised person. Will this help me?
Absolutely, it will give you a range of ideas that I have used in my own home, that you will be able to adapt to your family and household.
How much time will I need to have available to do this each week?
There are tasks like decluttering your kitchen bench through to cleaning a full room on some days.  If you can't complete all the tasks in one day, that is perfectly fine. You can make this a 20, 30, 40 day or more challenge whatever suits your lifestyle best.   You have lifetime access to all the content so you can refer back to it whenever you have a spare moment to tackle that space.
How much will this cost me in products etc beyond the price of the program?
I give you many printables, checklists, to do lists and more within the program. I do recommend other charts (like the kids routine charts, weekly meal planner etc), which can be purchased in the Deluxe package with a discount of over 50% or individually through my shop.  I didn't include them in the basic or premium packages to keep the price point of the program reasonably priced.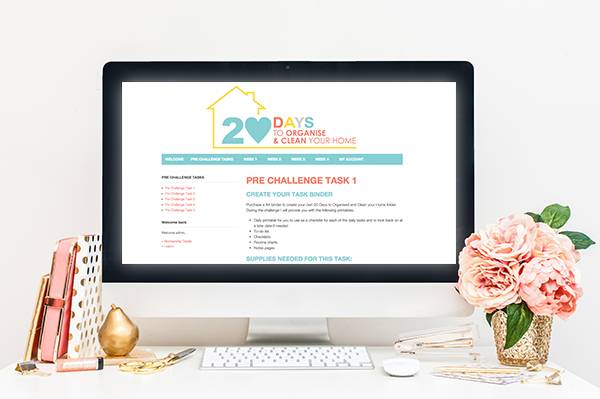 I remember when this was a free challenge. Why did you decide to charge people for it?
Publishing the challenge as an eCourse has so many benefits. The big one being that you will have easy access to challenge content that will not be mixed with other content from The Organised Housewife blog. However, I will refer to articles that will help you on the blog.
Having it's own separate site will make the tasks more manageable for you, less overwhelming, give you a daily step by step guide and the bonus of lifetime access so you can participate for FREE when run in the future AND you will have my support and help every step of the way answering all your questions.
How do I pay?
You can purchase your membership through Paypal, this is the most secure and convenient way to pay online.  You don't need to have a Paypal account to make your purchase. On the Paypal page below the login there is an option to choose to pay with credit card.
When does registration close?
Registration will close on Sunday 4th October. However, I do recommend you purchase your membership at least 5 days before this so you have time to complete your 5 pre tasks.
Do I need a particular computer program to access the challenge?
You will need a computer, internet access, printer and the free Adobe Reader program to download and print all your printables.
Do you have a refund policy?
I have provided you with tips in detail to create a calm, organised and clean home.  Due to the nature of this product, purchases are not refundable. Your results are 100% up to you. It is possible to make the changes in your home, but you need to commit to make this happen.
Will you run this challenge again?
This challenge will run again in late 2015.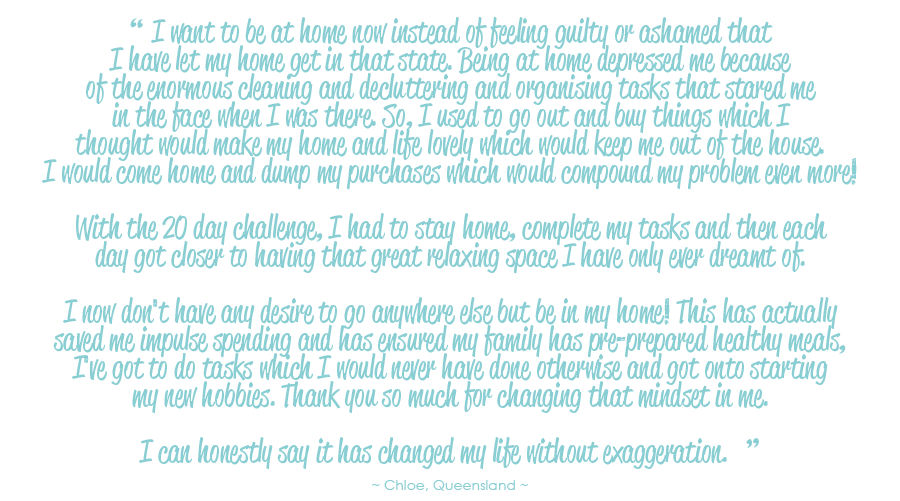 Once you have participated in the Challenge, you will have tidied and cleaned most of your home, learnt strategies and routines to help stay in control and keep your home clean and organised and freed yourself up to do the things you most want in life.

Registration for Round 4 opens in February 2016
The 20 Days to Organise and Clean your Home Challenge will run again in March 2015. If you are interested to get your home and life in order enter your details into the form below and I will send you further information closer to time.

I LOOK FORWARD TO HELPING YOU GAIN BACK CONTROL OF YOUR HOME SO YOU CAN SIT AND RELAX WITH YOUR FAMILY.